The heart of the Marketplace Ministry is to help us "bring our soul to work" and honor God even more Monday thru Friday. Our ministry strives to foster deeper understanding as to how our actions at work serve God. There is great room for growth in our ability to discern and obey God's will and to receive the blessings that come by following Him.
"Whatever you do, work at it with all your heart, as working for the Lord..." Colossians 3:23
A Lesson On Trusting God
A while back I read a story of a visiting pastor who attended a men's breakfast in the middle of a rural farming area of the country. The group had asked an older farmer, decked out in bib overalls, to say grace for the morning breakfast.
"Lord, I hate buttermilk," the farmer began. The visiting pastor opened one eye to glance at the farmer and wonder where this was going.
The farmer loudly proclaimed, "Lord, I hate lard." Now the pastor was growing concerned.
Without missing a beat, the farmer continued, "And Lord, you know I don't much care for raw white flour." The pastor once again opened an eye to glance around the room and saw that he wasn't the only one to feel uncomfortable.
Then the farmer added, "But Lord, when you mix them all together and bake them, I do love warm fresh biscuits. So Lord, when things come up that we don't like, when life gets hard, when we don't understand what you're saying to us, help us to just relax and wait until you are done mixing. It will probably be even better than biscuits. Amen."
Within that prayer there is great wisdom for all when it comes to complicated situations like we are experiencing in the world today.
Stay strong, my friends, because our LORD is mixing several things that we don't really care for, but something even better is going to come when HE is done with it. AMEN!
---
Quarterly Breakfasts



Our quarterly breakfast meetings will resume after the Covid19 restrictions are lifted. Until then, please reach out to each other and continue to be salt and light to those around you. Below is a fantastic testament to the faith of these healthcare workers in Florida and Tennessee truly "praying over" their patients and co-workers.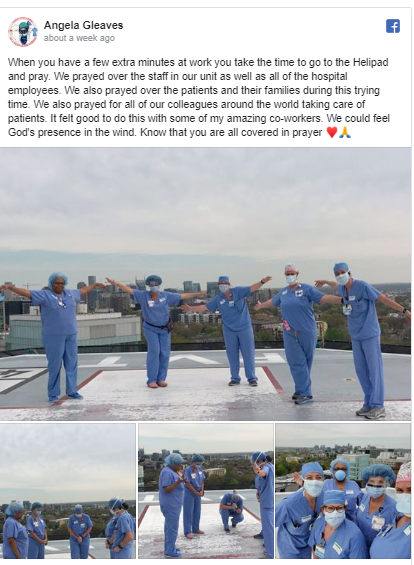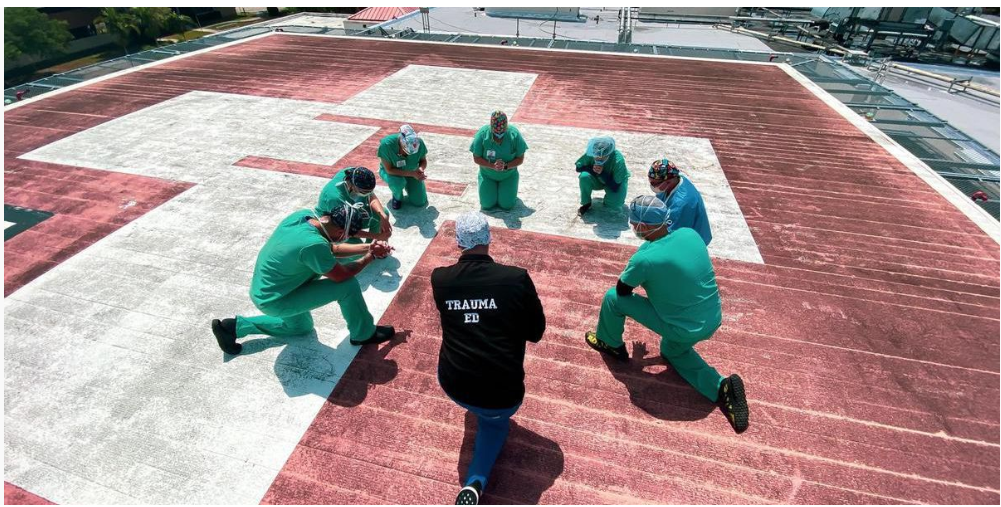 Jackson Health System in Miami also shared a photo of eight health care workers on a hospital roof, all kneeling in prayer. "This is how we started our morning today. Our team said a prayer, asking God for guidance and protection while we are at work, and to keep us and our families safe," said Danny Rodriguez, senior ER tech at Jackson South Medical Center.
---
Common English Expressions Originally from the Bible
While the workplace is most often a secular atmosphere (Chick-fil-A and Hobby Lobby being exceptions), we have found it very refreshing to see how many common expressions that you hear in everyday life that originate from His Word.
Click here to read more and if you have more that you know of, please tell us!
---
Work Related Scripture
Here are some Scriptures that can help you get through your work day. We will be adding to this list monthly so check back occasionally. Also, feel free to submit other Scripture that you feel is work related.
Click here for an initial list.
If you have any questions about the Marketplace Ministry, email Curtis Staker at